Because gun nuts need love, too.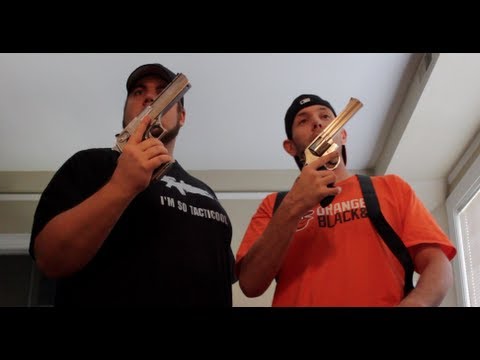 Alternative Addiction has an article about Orange Avenue and they talk with drummer Sean Sedita.
I checked my Yahoo! Mail spam folder and found this gem. Yes, I enjoy reading horribly written emails on occasion.
Hi:) My name is Ming:)

Howdy, honey! How are you? What's new?
It's Ming.
So, I really do not know from what to start. Maybe from this.
One of my friends showed me ur pictures and I liked them very much!
I am searching for not boring, serious guy for such a long time but there r a lot idiots who r just banging and then leaving me.
I'm sure you're from their quantity!
So, if u're a nice pal then I wait for your mail.
I checked the blog's comment spam as well. There wasn't anything nearly as good as the email, though.
First we learn about a musically inclined teenager. This comment has the added benefit of a built-in joke.
My son is one of those people. He is 16 and has payled the violin since he was 4. He now plays violin, guitar, banjo, ukelele, and pretty much anything he gets his hands on. You're normal. He breathes music. I do too. Where is the link for your list? Don't see it, but I'm kinda blonde like that!
Then we have someone thanking me for providing explanations.
My wife and i were so relieved Edward managed to do his investigation out of the precious recommendations he obtained through the web pages. It is now and again perplexing to simply choose to be giving for free guidelines others have been trying to sell. We realize we need the blog owner to appreciate for this. These explanations you've made, the simple web site menu, the friendships your site make it easier to create – it's mostly wonderful, and it's really facilitating our son and our family know that the theme is satisfying, which is tremendously essential. Many thanks for everything!
Ah, spam. I wonder if my post about spam will garner any spam comments.
As some of you may know, I'm a big fan of indie band Orange Avenue. I went down to Florida back in February to go to the release party for Small Victories, their new CD.
The first single off the CD was "Wondergirl," which is full of energy and is a great follow-up to "Just Refrain" off the Reset EP. They've just released "As You Fall" as the second single and they want to shoot a video for it. That's where we come in.
They've set up a Kickstarter project to raise funds for the video and they have some kick ass gifts lined up for contributors.
Acoustic versions of songs from Small Victories
Limited edition artwork by bassist Jamie Pohl
Signed shirts, snare heads and drum sticks
Guitar, drum and keyboard lessons
Opportunities to hang out with the band
And a lot more!
You want to know the best part? You can get "As You Fall" free! Just head over to their website and click the Download link!
If you like what you hear, or you just want to support indie music, then please head over to their Kickstarter page and make a pledge. These guys work their butts off and are as dedicated to their fans as their fans are to them. They would truly appreciate your support.
Also, as a disclaimer and to prevent any possible misunderstandings, I am not a representative for the band and I'm not receiving anything in return for posting this. I'm just a fan who wants to help these guys out.
Broadcast radio in Kansas City is pathetic. While driving, I would constantly change stations to find something to listen to, or just turn the radio off because there was nothing worth listening to.
I remember hearing commercials about how great broadcast radio is because it's free. Yeah, it's so fantastic I can't stand to listen to it anymore.
I'd finally had enough, so I decided to switch to satellite radio. I checked the SiriusXM website for some info, then went to Santa Fe Auto Sound to see what they had to offer. If you're looking to upgrade your car audio, you should check them out. I've bought a few things from them since the early '90s, and they're the first place I go to when I want to change something with my vehicle's audio system.
I picked up a SiriusXM Edge radio and had it installed this past Wednesday. My car stereo has an aux input so connecting the audio was simple. I signed up for a plan, got the radio activated and I couldn't be happier.
Below are the stations that were in my presets along with my complaints. Of course, you might like everything I hate, in which case you're wrong.
I don't have any specific complaints. I might listen to a song or two, but there was nothing to keep me tuned to the station.
Overall the Buzz plays a good selection of music, except for the times when the hosts seem to be more interested in hearing themselves talk than playing music. Sorry, but I don't want to hear nonsensical jabber, I want to hear music. I'm sure their fans love it, but I'm not going to listen to it. A while back I was listening and the host was talking about a Smashing Pumpkins song that he plays once or twice a year and how people call in wondering what it is because they've never heard it before (Really?). I'm sure the band appreciates its music being sequestered. What was the song? I don't care. When I hear Billy Corgan's voice I change the station. They also play Loveline at night. I'm hardly puritanical, but I don't want to listen to that crap.
They play, and often overplay, music from bands that I hate.
Like 94.9, this station can keep my attention for a few songs, but not long term.
Did you know that JACK FM doesn't take requests? If not, they'll remind you hundreds of times each hour. Like the Buzz, they play a good selection of music, but it's what they do when they're not playing music that drives me away. For some reason, they feel compelled to play these moronic bits, or "snappy comments by its inimitable station voice" as they put it, between songs in an attempt to be funny. I think it's annoying and stupid. If they'd get rid of their "inimitable station voice," I might still be listening. All that voice did was make me change the station.
I like listening to comedy. If they play someone I don't like, I'll change the station. What I don't like is listening to people attempting to be funny. There have been three comedy jockeys, as I've decided to call them, who chime in from time to time. They like to take a recent news story, usually something offbeat or weird, and attempt to make a joke about it. I have never laughed at anything they've said. All their voices did was make me want to change the station.
Commercials also played a part in driving me away, of course. I know that's where radio stations get their money, but I'll gladly pay so I don't have to listen to them. There's one company in particular that believes oversaturating the market is a good thing. I think I've heard their ads on pretty much every station I've listened to. And I was mistaken in thinking it's a local company, as I've heard the same annoying ads in Indiana and Kentucky. There are also people who do voice-overs who have incredibly annoying voices. If you want me to listen to your ad, you'd best not use one of them. Lastly, some commercials are just plain stupid. You have to wonder if they're aiming for people with room temperature IQs.
With that, I say sayonara to local broadcast radio in Kansas City. I seriously doubt I'll miss it.