I went to Worlds of Fun on April 25 to get my Platinum Season Pass and get some coaster riding in. I was surprised at how busy the park was. It was the second weekend the park was open.  I think it was raining the previous weekend.
I waited in line to ride Patriot, which is always a good ride, then headed over to Timber Wolf. That line was pretty long as well. While I have enjoyed Timer Wolf in the past, it wasn't worth waiting in line for, at least that day. I headed over to Mamba, which had an even longer line. When I was about halfway through the last set of switchbacks, they close the ride because of the weather. It wasn't raining, but there must have been some lightening nearby. A 200+ feet tall steel roller coaster and lightening don't go together too well.
I decided to leave and started to make my way back to the gate. I went through Africa to check out the soon-to-be-open Prowler, a Great Coasters International (GCI) wood coaster. I've ridden two other GCI coasters, Renegade at Valleyfair in Minnesota and Evel Knievel at Six Flags St. Louis. Both of those were a lot of fun, so I was expecting something good from Prowler.
I only had to wait a week to find out.
Last Friday, May 1, Worlds of Fun hosted a Prowler preview event for the media and season pass holders from 3 to 8 p.m. I left work early and headed to the park. There were a lot of people there already, and more would come as people got off work.
I met my friend Charlie there, and was going to meet another coaster buddy a little later. We made our way into the park and headed back to Prowler to wait in line with the rest of the season pass holders. The media people had their own line, and since there were fewer of them, they got more rides than us hoi polloi.
Well, it was worth the wait. Prowler is a blast! It's not the biggest, baddest woodie on the planet, but it's lots of fun. It has plenty of twists, turns and airtime to keep anyone happy.  We rode in different parts of the train, and agreed that it was definitely a backseat coaster. Like Evel Knievel, however, any seat will give you a good ride.
Charlie had to leave for work after our third ride, but I stayed until 8. My other coaster buddy, Jason, left early as well. He was going to be one of the first riders when the coaster opens to the public because he won a seat through a charity auction.
I got six rides in the five hours I was at the park. Not bad, but I would have enjoyed more.
PROWLER POV Video Worlds of Fun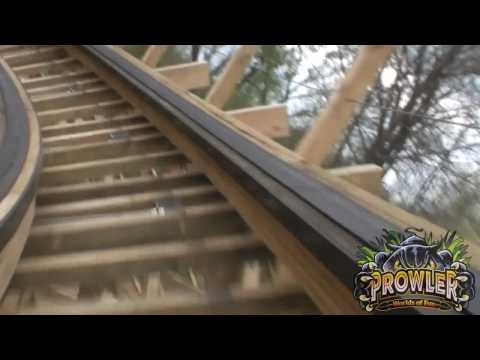 If you like wood coasters, Prowler is definitely one to check out.